Peggy Prevoznik Heins Fund for  Leadership Development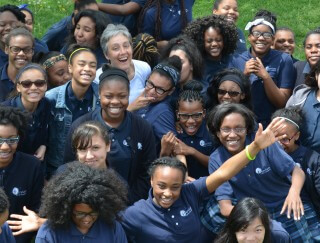 Honoring Our Outgoing President, Peggy Prevoznik Heins
After 8 years of dedicated service, our current President and Serviam Girls Academy leader, Peggy Prevoznik Heins, will step down at the end of the school year. Pursuing her belief in the transformative power of education, Peggy was a founding member of Serviam Girls Academy in 2008 and served as the first Chair of the Board of Directors. 
To honor and continue Peggy's legacy, please consider a gift to Serviam in one of the following ways: 
The Peggy Prevoznik Heins Fund for Leadership Development will invest in the growth and skills needed for faculty, staff, and students to lead now and in the future.  
Turn your annual gift into a 5-year pledge in honor of Peggy. Click the link below to make a pledge to the Community Scholarship Initiative.