A Day in the Life of Serviam Students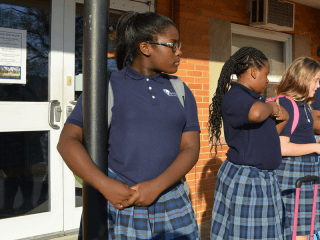 Morning
From the moment the doors open, students and faculty alike adopt an attitude of "serviam" (I will serve) in everything we do.
Students gather for breakfast in the Fellowship Hall each morning. Breakfast is vital to the start of a successful day.
Homeroom offers time for students to gather with their classmates, pray, recite the Serviam pledge, and prepare for the day.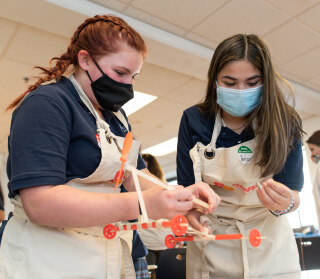 Core class schedule rotates daily and includes:
Math
Science
English Language Arts
Social Studies
Academic Reinforcement and Enrichment
Break/Snack
Students have a short break and snack to refuel for continued active learning.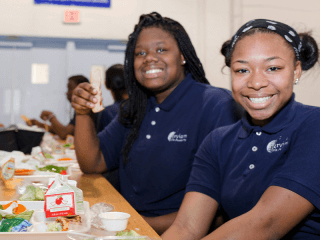 Mid-Day
Prayer is the key of the morning and the bolt of the evening.
- Mahatma Gandhi
Our students have a 40-minute break to eat their lunches and connect with their peers in the Fellowship Hall.
Committed to educating the whole person, Serviam incorporates daily physical education as well as classes that focus on health and nutrition, life and study skills, and preparation for high school.
Physical Education/Dance/Health
Spanish
STEM
High School Prep
Gardening, Environmental Education
and so much more . . .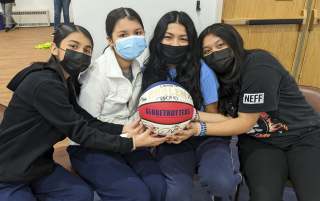 Afternoon
A daily study hour is dedicated to completing homework and getting extra help. This is a great opportunity for students to meet with tutors or seek help from their teachers about challenging material.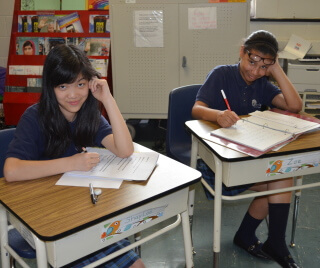 While non-competitive sports are offered throughout the week in PE class, Serviam's competitive athletic program includes cross country, basketball, track and field, and others, providing our scholar-athletes the opportunity to explore her interests and find something that ignites her passion.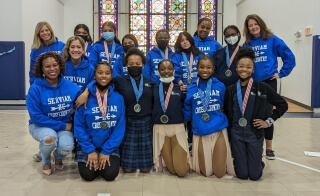 The school day ends at 4:00pm on Monday-Thursday and 3pm on Friday. Students return to their families with full heads and happy hearts.