Our History
Serviam Girls Academy's roots date back to 1971 and the all boys, Jesuit middle school, Nativity Mission, founded on the lower east side of Manhattan. The inspiration for the NativityMiguel Network of schools, Nativity Mission offered its students a uniquely structured program which included: small class sizes, allowing for meaningful interactions between students and teachers; and, an extended 10 hour school day and 10 month school year, reducing the students' exposure to the difficulties and temptations of inner city life. Today, there are over 50 NativityMiguel schools across the United States and Canada, each with the mission of providing a quality, faith-based education to low-income students in order to prepare them for admittance into competitive high schools and ultimately, to college. Serviam Girls Academy is one of those schools. Having opened its doors in 2008 to a group of pioneering 5th and 6th grade students, Serviam is proudly educating 60-65 girls in grades 5 through 8, and supporting 115 alumnae.
Serviam Girls Academy is also rooted in the rich tradition of Ursuline education. Inspired by the vision of St. Angela Merici and the traditions of the Ursuline Order, the Ursuline heritage emphasized the education of women and girls for close to 475 years and has spread to six continents. St. Angela lived a life of prayer and love of neighbor, dedicating herself to both, especially to the education of girls. Following her lead, Ursuline sisters throughout the world continue to empower others through education and service.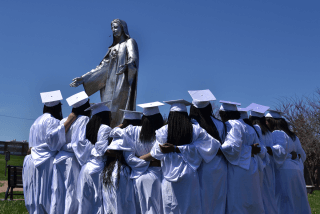 Core Values
Inspired by St. Angela Merici, Serviam Girls Academy is a NativityMiguel model school rooted in the Ursuline tradition and upholds the following values:
Respect for each person as a gift from God.
Promotion of the development of the whole person in a caring, Christian community.
Student engagement in a dynamic and supportive academic and enrichment program that motivates graduates to succeed in high school and to pursue higher education.
The development of higher-order thinking skills, especially critical and creative thought, to solve problems in an increasingly global world.
A strong school community built by a partnership among students, faculty, family, community members, and organizations to provide a holistic education.
The Gospel call to discipleship and service to the broader community.
Student empowerment to be leaders and a voice for justice and compassionate change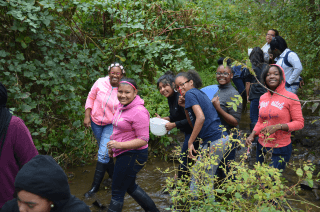 Serviam Pledge
I pledge this day, with INTEGRITY and PRIDE,
My continued support for the spirit of Serviam.
A spirit of COMMUNITY, not selfishness,
A spirit of RESPECT for each person I encounter.
A spirit of dignity for who I am,
A spirit of RESPONSIBILITY for who I will become,
And how I will act in SERVICE of others in need.
May this spirit grow in me today, and may the spirit of Serviam forever thrive!
Graduate Profile
Upon graduation, through the teachings of St. Angela Merici and the guidance of faculty, staff, and administration, a graduate of Serviam Girls Academy will be able to:
Carry on and live out the qualities of the Serviam Pledge.
Community, Respect and Responsibility, Integrity, Service, and Pride
Value learning as a lifelong process.
Think critically with a sense of global awareness.
Broaden her awareness of self and the world through cultural experiences.
Maintain her composure in the face of challenges.
Be confident and competent in self-expression.
Understand and embrace the benefits of a healthy lifestyle.
Accept accountability for personal choices.
Seek God through prayer.