Summer Program
The Achievement Gap
Across demographics, students typically advance their learning at similar rates throughout the school year. During the summer, however, their learning slows. This effect is particularly strong for at-risk students, who often times see a retreat in learning over the summer. Although equal in June, there could be a two or three month difference between two students' learning by September. This effect is called the "achievement gap".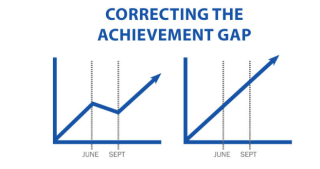 Our Program
Students participate in Serviam's mandatory four week Summer Program. Research has shown that during summer vacation, a student's rate of academic development declines. All children lose academic skills during the summer months, but children without access to educational and enrichment opportunities lose those skills at a faster rate, resulting in a cumulative impact over time. Serviam's Summer Program helps prevent summer learning loss by providing focused, specialized attention to students in the academic subjects they may have struggled with during the year as well as by providing engaging and empowering opportunities to learn new ideas, build skills and have fun. The six hour day includes academic reinforcement, project-based learning opportunities and enrichment programming such as arts, athletics, STEM, and leadership as well as field trips.
Serviam Girls Academy is also rooted in the rich tradition of Ursuline education. Inspired by the vision of St. Angela Merici and the traditions of the Ursuline Order, the Ursuline heritage emphasized the education of women and girls for close to 475 years and has spread to six continents. St. Angela lived a life of prayer and love of neighbor, dedicating herself to both, especially to the education of girls. Following her lead, Ursuline sisters throughout the world continue to empower others through education and service.